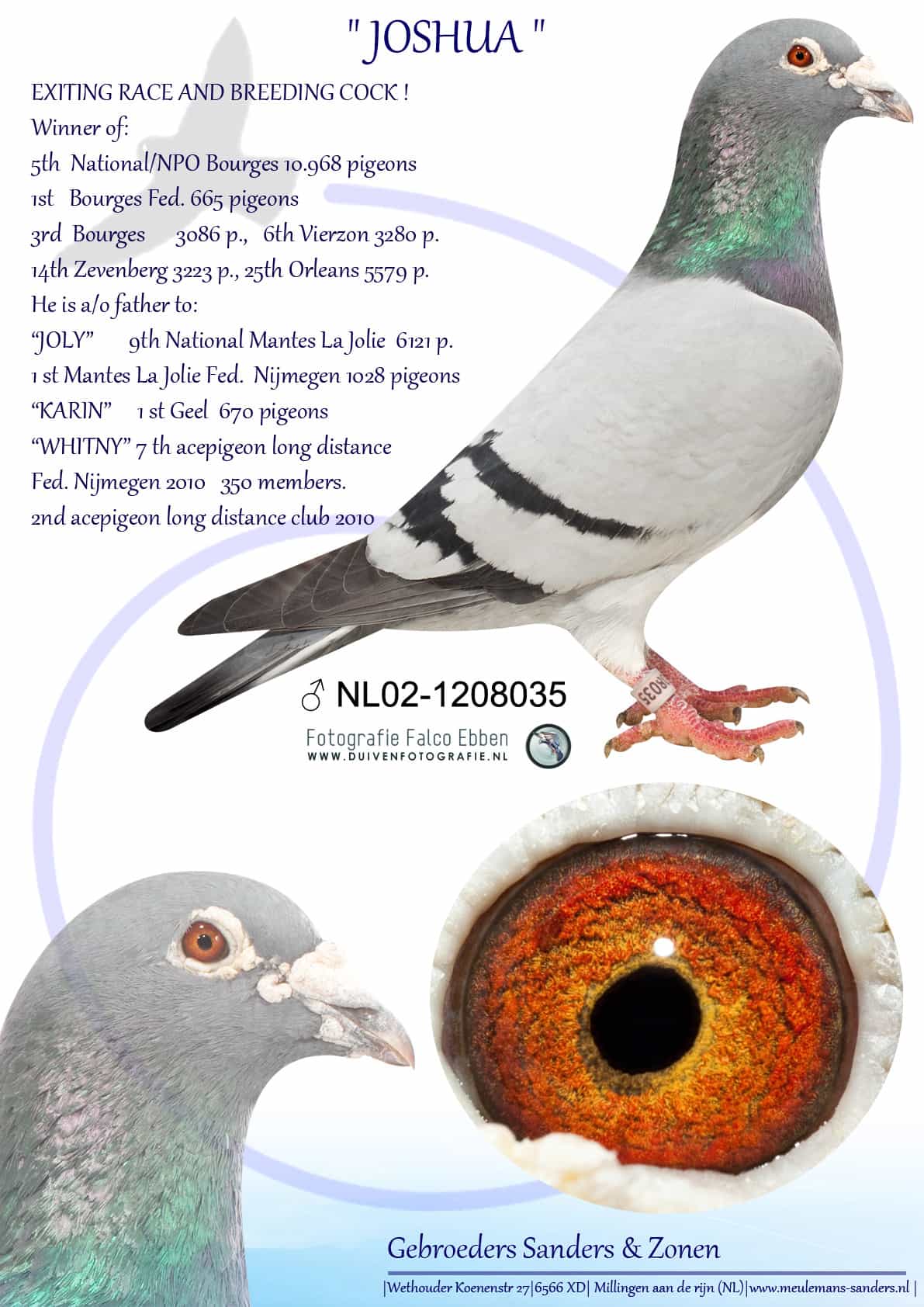 English
:NL2002-1208035 "JOSHUA", SUPERBREEDER!
Father of 4 different first prize winners and ace pigeon! Joshua a.o: 5th NPO/NATIONAAL  Bourges 10.968 birds 600km, 1st Bourges 665 b, 3rd Bourges 3086 b., 6th Vierzon 3280 b.590 km, 14th Zevenbergen 3223 b., 25th Orléans 5579 b., 37th La Ferte Bernard 3849 b. and 13th Orleans 808 b.,20th Orleans 925 b., etc.
FATHER of:"STORM" 2 x 1st prize 1st Orleans 248 birds in 2011, 3rd circle Nijmegen 1265 pigeons, 60th NPO 5946 birds. 170 pigeons 1st Bourges 2012. "JOLY" 1st  1028 pigeons in 2010 , 9th National Mantes la Jolie 6121 p. "KARIN" 1st against 670 pigeons "WHITNY"  7th acepigeon long distance ace (350 members) in 2010. "NICOLE" Granddaughter of Joshua 1st Menen  145 p., 2nd Epehy 119 p., 2nd ace pigeon 2011 and many more…! *
*Grandfather :98-2249909 Son Ronaldo, of Comb. Jansen  and father of several    protruding racers. He comes from 95-2021461 Ronaldo, a topper from the famous champion Co. v. Maldegem and was coupled with  94-2557792 Ada, a original Koopman.
* Grandmother: 98-2248884 Mother Joshua, a great breeding hen .Her father is:B90-6708243 Son of BLAUWE AS Maurice Voets and her mother is B90-6708245 and who also comes from the world famous loft Maurice Voets.